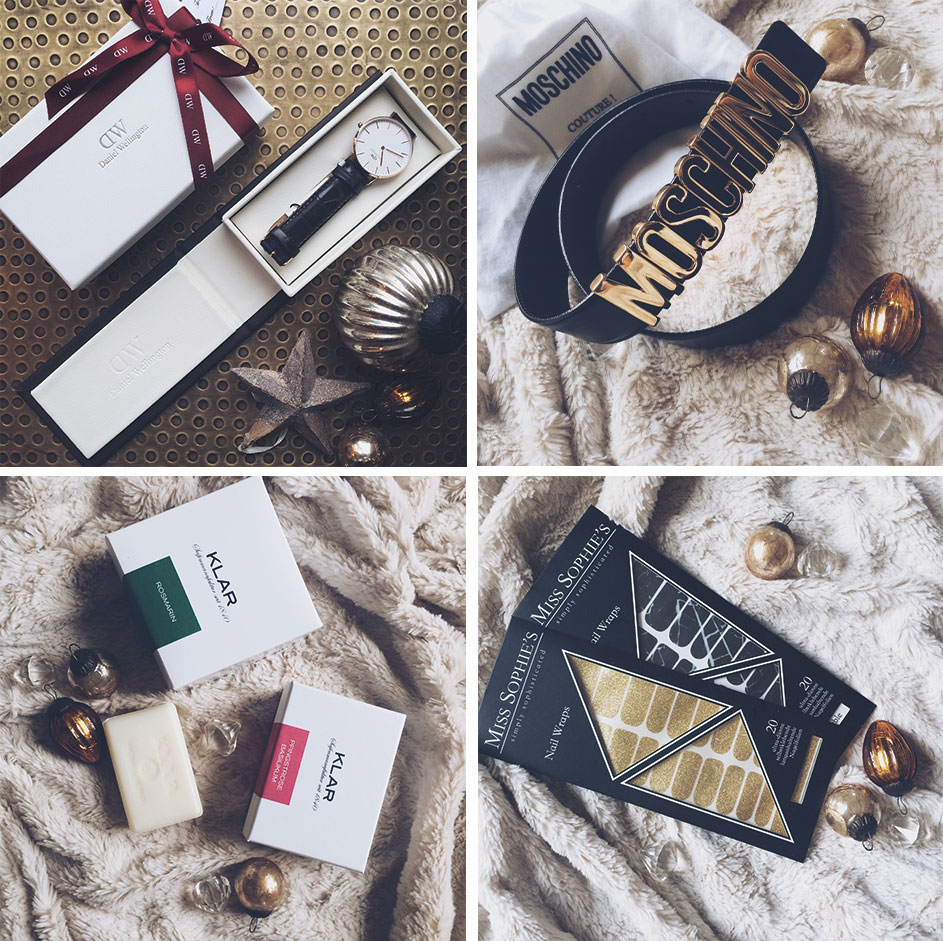 19 Dez

Xmas Gift Guide

Christmas is here and presents should have been long bought… At least in my case! It's 19th of December and I still have to buy a few gifts. If you are in the same situation then I am happy to inspire you! 😉

Here are my last minute gift tips!
1. Soap from Klar
I recently fell in love with good old soap and of course not the fluid soap! The good old soap bars and Klar is one of Germany's oldest soap manufacturers. Their little soap bars are absolutely cute and you can get them in the loveliest fragrances: rosemary, basil and peony just to name a few. I think that's such a cute idea for any female recipient!
2. Moschino Belt
This is actually a gift I got for myself just last week! The Moschino belt is absolutely timeless and such a statement piece. It looks brilliant when paired with an "all-black" look or with your favourite white blouse. And I even found it on sale – see link here.
3. Miss Sophie's Nail Wraps
Don't tell me you haven't heard of Miss Sophie's yet? Well, if you really haven't, it's time! Miss Sophie's are a bunch of girls who design nail wraps and just launched their own business! I tried them wraps out and loved it. So easy to apply and super cute on the nails. Check them out and buy some for your bestie!
4. Daniel Wellington Love
Watches!!! I love Daniel Wellington watches! Sophisticated and very chic – what else would the perfect christmas present require? Exactly nothing! Or better to say a 20% discount code from me to you. Just use holiday-seaside at checkout and you get 20% off any item! I absolutely adore the Classic Reading in rose gold.
All that's left to say – merry shopping! 😉
xoxo